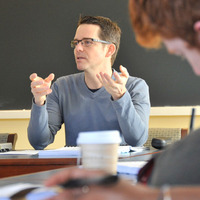 Andrew Curran (Ph.D., New York University, 1996) is Professor of French in Wesleyan's Romance Languages and Literatures department. He is currently serving as Dean of Arts and Humanities at the university.
Curran's research focuses on the eighteenth-century life sciences and medicine, with particular interest in human monstrosity and the science of French empire. His major publications include an edited volume (Faces of Monstrosity in Eighteenth-Century Thought in Eighteenth-Century Life) and two books: Sublime Disorder: Physical Monstrosity in Diderot's Universe (Voltaire Foundation, 2001) and, more recently, The Anatomy of Blackness: Science and Slavery in an Age of Enlightenment (Johns Hopkins University Press, 2011 / paper 2013). He is currently at work on a new book entitled Diderot: The Art of Thinking Freely for Other Press.
Elected a Fellow in the history of medicine at the New York Academy of Medicine in 2010, Curran has also received fellowships from the National Endowment for the Humanities, the Mellon Foundation, the Schomburg Center for Research on Black Culture (declined), the John D. and Catherine T. MacArthur Foundation, and Wesleyan's Center for Humanities. He was also the co-winner of the James L. Clifford prize for the best article in eighteenth-century studies in 2011 on the history of albinism. Curran has served on the editorial board of Studies in Eighteenth Century Culture and is presently on the board of Critical Philosophy of Race and Diderot Studies.